Webinar: The future of public transport - new technologies, innovation and planning development
2nd - 9th September 2020.
LOW-CARB partner City of Koprivnica hosted a 2 day online workshop together with ODRAZ, the secretariat of the CIVINET Slovenia-Croatia-SEE network. It focused on the following topics currently faced in southeast Europe
increased adoption of new technologies, 
innovations in transport policies,
the role of SUMP in public transport planning,
clean vehicles,
micromobility and
funding opportunities related to public transport. 

There was also a special focus on planning in time of crises. The workshop was held in the local langauge of Croation as well as English and was attended by 79 participants, made up of transport experts, representatives of local and regional authorities, representatives of public transport companies, students and civil society organizations.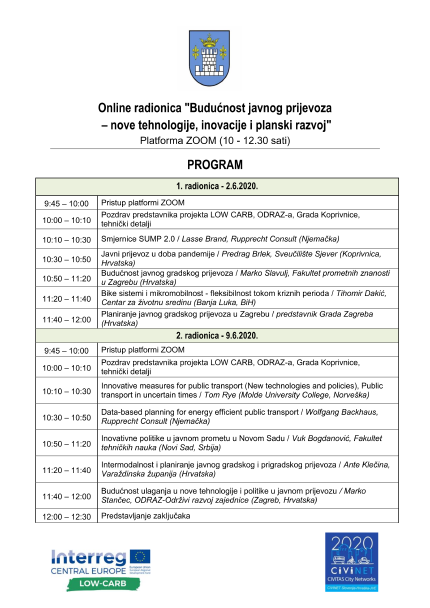 Information Source: https://civinet-slohr.eu/on-line-radionica-buducnost-javnog-prijevoza-nove-tehnologije-inovacije-i-planski-razvoj/
Header Image: Nenad Martić - Vukovarska 6.13 (Photo competition "Moving through my city", 2016)
Last updated 10.02.2021