CEETO Final Conference - a look into the future for the development of Sustainable Tourism in Protected Areas
May 14th, online – CEETO project celebrated its final Conference to present the main outcomes of the project and the state of art of Sustainable Tourism practices in Protected Areas from the hand of different experts on the field.
Last May 14th 2020, CEETO Interreg Central Europe project hosted its Final Conference in order to present the project's main outcomes and experiences, after three years of extensive work in testing Sustainable Tourism management models in Protected Areas. Organised by Naturpark Sölktäler, Austria, and moderated by Christian Baumgartner, Vice-director of the International Commission for the Protection of the Alps (CIPRA), the event was hosted online due to the current international health crisis mobility restrictions and attended by over 200 international participants from over 500 original registrants.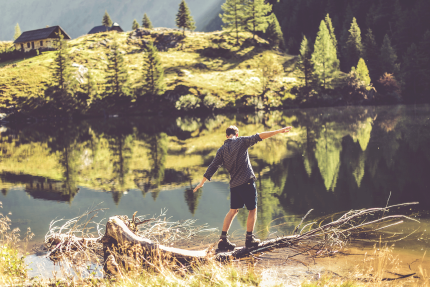 The meeting started with a welcome message from Veronika Grünschachner-Berger, Managing Director of Naturpark Sölktäler and continued with an overview of CEETO project done by the Lead Partner Monica Palazzini, from the Emilia Romagna Region, Italy.
The event continued with the presentations from the hand of CEETO project partner of the Pilot Action Plans that were designed and implemented in eight different Pilot Protected Areas in Europe. These plans included different actions related with visitor's flow monitoring, stakeholder involvement, impact mitigation, alternative transport means, tourism planning and communication and awareness resources, among others. 
Afterwards followed a presentation on the main tools that the project has produced to support the different actors involved in sustainable tourism development: the Handbook on Successful - Innovative Practices in Europe, the Guidelines for a Sustainable Tourism in Protected Areas, targeting policy makers at all levels, and the Manual of Sustainable Tourism governance for Protected Area managers.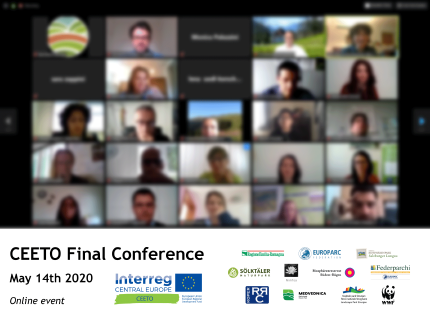 Once the results of CEETO project were covered, external speakers such as Christian Baumgartner (CIPRA, Austria), Herbert Wölger (National Parc Gesäuse, Austria) and Maurizio Davolio (Association of Responsible Tourism, Italy) contributed with their experiences and knowledge on different topics related with ecotourism and Sustainable Tourism
To end with, a panel discussion took place attended by Carol Ritchie (EUROPARC Federation) and Sara Zappini (Thermal Park Terme di Rabbi, Italy), who presented their experience on sustainable tourism development through community involvement, challenges of working with businesses, the role of public authorities and perspectives for the future after the current international health crisis we are going through.
The event concluded with a general discussion and two short presentations on why we need projects like CEETO, from the hand of Marco Koscak (Studio MKA Ltd, Slovenia) and closing words on the experiences that CEETO project has provided, from the hand of Carol Ritchie.
For further information, to get a copy of the presentations or to watch the online recordings, please visit the the CEETO Final Conference webpage.