Parma Hosts the 4th Annual Italian National Trolleybus Day
12.07.2019
Each year for the past 3 years, a different Italian city has hosted the National Trolleybus Day (La Spezia, Napoli and Bologna ). It is a day catered to gathering different trolleybus stakeholders, from public transport operators and trolleybus producers to various technology providers and enablers, so that they may enhance national skills and identify Italian excellence in the field of transport, mobility, and smart cities. This year on the 5th of April, Parma hosted the event which included an analysis of European trends in the sector. The meeting was opened by the Mobility Councillor of the Municipality of Parma, Ms Tiziana Benassi, and by the president of TEP, Mr Roberto Prada.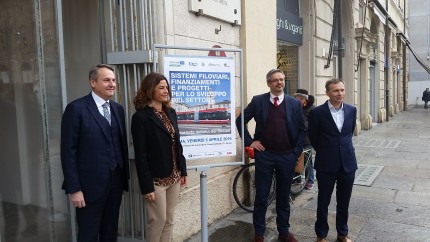 Pictured from left: Roberto Prada (president of TEP), Tiziana Benassi (mobility councillor, Municipality of Parma), Alessandro Sasso (Man.tra director) and Riccardo Genova (DITEN - Dipartimento di Ingegneria Navale, Elettrica, Elettronica e delle Telecomunicazioni)
The day also focused on various EU development projects that Italy is currently involved in. The conference was held in the city centre of Parma at the Auditorium of the Governor's Palace, in front of the historic seventeenth-century town hall.  Parma showcased their role within the LOW-CARB project by taking the 82 participants on a technical site visit. Participants got the opportunity to travel onboard Parma's 18-meter long Vanhool-trolleybuses that service the city's main line. A computer connected to the trolleybus demonstrated how these particular vehicles can reduce energy consumption through a supercapacitor installed on the bus's roof. When the driver brakes, the equipment recovers and accumulates energy, and is able to re-use it when the driver begins to accelerate again. This can reduce energy consumption by up to 20%. Parma plans to build a recharging station at the trolleybus terminal. This will allow integration of the trolleybus network with the existing bus network off-grid, and therefore expand the reach electro-mobility to more areas of Parma.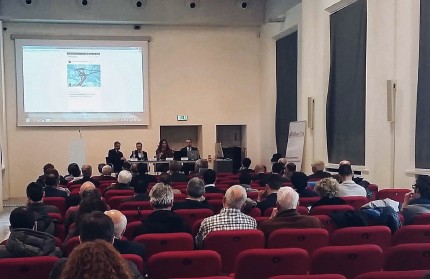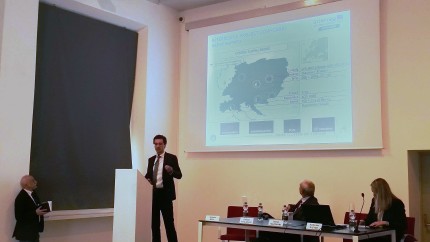 Pictured from left: Antonio Riva, Luciano Spaggiari, Davide Mezzadri, Katharina Rainer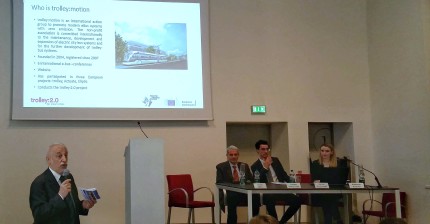 Pictured from left: Antonio Riva, Luciano Spaggiari, Davide Mezzadri, Katharina Rainer