LOW-CARB LAUNCHES THE FIRST OF ITS  INNOVATIVE PILOTS IN KRAKOW, SKAWINA AND LEIPZIG

20.12.2019
****DOWNLOAD THE LOW-CARB PILOTS HANDBOOK FROM THE HOMEPAGE FOR A FULL OVERVIEW OF PILOT MEASURES****
Krakow, Poland

On the 6th of December 2019, the city of Krakow gathered for the launch of their innovative car e-bike fleet. This pilot project of LOW-CARB seeks to address the delivery needs of people living with the city center where car-use has been heavily restricted. While citizens are overwhelmingly impressed by the improvements of air-quality and safety for pedestrians in this area, they can only receive deliveries that are made before 10AM and in the late evening. Consequently, deliveries that are made during working hours, are currently being done by foot, and are also restricted to very small packages.

The introduction of cargo e-bikes seek to alleviate the stress of delivering small to medium items (i.e. anything below 100kg). Their innovative aspects lie in the combined use of both shared mobility and on-demand mobility services. The City of Krakow is no stranger to bike sharing, and boasts a fleet of 1500 e-bikes and around 150 stations. Although, they do not necessarily need to be parked at a station. The new cargo e-bikes will be a subsystem of the existing bike-share. They will expand the current range of available shared-bikes by introducing between two and five new parking stations to currently inaccessible areas. This is particularly relevant for the area between Skawina and Krakow which has a hilly topography that often discourages modal shifts from car to bike. E-bikes require less paddle-power for drivers, and now they can carry cargo with them too!

The bikes can be conveniently booked on-the-go using a newly developed app, future features will include being able to book a bike in advance of usage, thereby allowing delivery companies more streamlined delivery routing. Watch how it works here.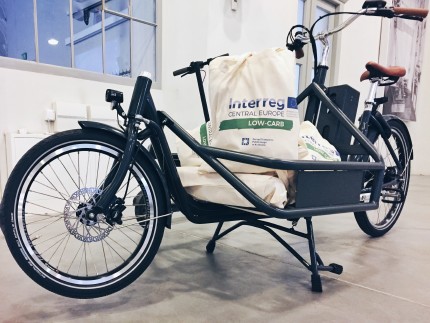 | | |
| --- | --- |
| Krakow's Cargo-bike pilot | Krakow's e-Bike pilot |
Skawina, Poland
After months of technical planning between Skawina and Kraków, meetings between Interreg CE Low-Carb partners and project management bodies, the effective collaboration implemented a low emission bus line in Skawina. It was successfully launched on the 6th of December 2019, with the first line setting out before dawn! It's the first and only bus line that exclusively serves the town of Skawina. Its route was determined as a result of a multi-stage research process conducted by numerous experts and an independent consultant. The line connects the main traffic generators in Skawina with key points of interests and important destinations such as the main station, the main market, sports facilities, public buildings and services, cemeteries, etc. It's operated by two hybrid busses of MPK Kraków: Solaris Urbino Hybrid (12,9m) and Volvo 7900 Hybrid (12m). They have been scheduled to run at 20 min intervals on working days and at 40min intervals over the weekend. The line is free of charge for all passengers! The pilot will be in service until the 30th of June, during which its usage and user satisfaction will be monitored to determine it success in connecting the people of Skawina to the main station, and from there, to the central part of the Krakow Functional Urban Area. Research efforts will focus on determining the quantitative impacts of the line in reducing CO2 savings from encouraging a modal shift from car to bus travel. The results of which will inform any modifications that should be made to the line in future.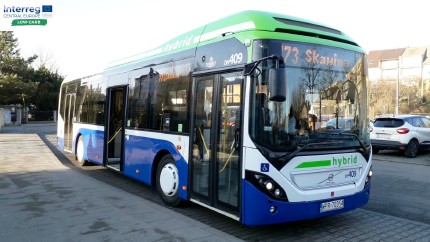 Leipzig, Germany
The REACHIE 'Accessibility map' was excitedly launched on 13th November 2019 at a Business Mobility Brunch in Leipzig. This is a pilot project of LOW-CARB aimed to better connect workers with alternative mobility offers that encourages modal shift away from the traditional single-occupant per car journey.
The tool is an interactive online journey planner for commuters to map their home-to-work routes. The development of which arose from the interests in the dynamics between land use zoning and the mobility options that become available (or unavailable) because of it. Leipzig, lead partner in the LOW-CARB project, has created an integrated mobility action plan in response to the mobility demands of its growing Functional Urban Area. Of particular mention is its Northern Industrial Area which is concentrated with businesses and has a high volume of commuter travel.
The Accessibility Map has been designed to inform workers of multimodal travel options, incorporating public transport networks and multimodal mobility stations. It has been created actively with stakeholders of the Northern Industrial Area, and was received with much satisfaction. Around 120 representatives from local businesses and key stakeholders including the Metropolitan Region Central Germany discussed the topic of how to best improve the mobility of commuters from the user's perspective. It was well acknowledged that public transport operators and economic actors have to work together to strengthen the region's mobility offers.
The 'Accessibility Map' is an excellent option for commuters to plan their trips and to attain information about the accessibility of their homes and workplaces by using different transport modes at different times to avoid creating "peak-hours" of traffic. The discussion showed, that the action plan produced within LOW-CARB met the specific needs of companies dealing with changing shift times, need for direct connections and high-quality transport systems. This pilot action demonstrates the possibilities when private and public sectors harness their respective strengths and work together to achieve novel solutions that benefit both industries.