LOW-CARB Launches New
SUMP Self-Assessment Tool
29.02.2020

A Sustainable Urban Mobility Plan is central to low-carbon mobility! And so, LOW-CARB has developed several new tools to aid cities and regions (particularly in the Central European area) with their SUMP processes, whether they're just starting out, or looking to improve an existing one! The latest tool developed is the SUMP Self-Assessment Tool. It has been designed for local authorities and practitioners to assess how closely related their strategic mobility plan is to SUMP approaches.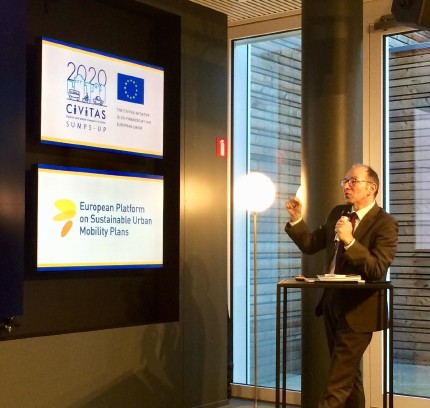 What is the SELF-ASSESSMENT TOOL?
Have you ever completed an online pop-quiz to find out what type of sandwich you are?
Well, the Self-Assessment Tool follows the same format of an online quiz to swiftly diagnose, evaluate, and help you improve (or begin) your SUMP processes. After 20-30 minutes, you (or your team) will be provided with guidance, resources and suggestions that are unique to your city's mobility situation and needs. By the end of the 30-45 questions (depending on your city's mobility scenario), an assessment on the quality of a strategic mobility plan AND an evaluation of general planning activities can be deduced. 
LOW-CARB's Role in the Development Process
The SUMP SELF ASSESSMENT TOOL was developed cooperatively between SUMPs-UP and LOW-CARB.
LOW-CARB took the lead with coordination actions and offered the existing SUMP principles an additional "functional urban area (FUA)" perspective. This adapted the functionality of the tool to also account for mobility patterns specific to Central European regions, which are more delineated by FUA travels.

LOW-CARB also played an instrumental role during the tool's testing phase which was conducted by a LOW-CARB Advisory Board member (Transport Association "Verkehrsverbund Rhein-Sieg") and a LOW-CARB follower region (Metropolitan Region Krakow).
LOW-CARB will also oversee the translation of The SELF-ASSESSMENT TOOL which will soon be made available in all languages part of the Interreg Central Europe programme. Finally, LOW-CARB will soon host a webinar on how to use the tool, so stay tuned!
The SUMP Self-Assessment Portal
"Would like to develop a SUMP, but don't know where to start? Would you like to evaluate the status of mobility planning in your city and receive tailored feedback how to further improve?"  

Then check out the SUMP Self-Assessment Tool hosted by the European Platform on Sustainable Mobility Plans.