THINGS+ Final Conference Report

"Things+ project is a best practice and future-ready"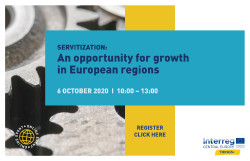 Report from the final conference of Things+ project where more than 80 participants discussed the importance of service innovation. 
"Servitization changes the rules of the game," Boris Golob, CEO at Science & Technology Park in Rijeka, said at the closing conference of the Things+ project. 
Since June 2017, the project has helped more than 100 companies across nine central European countries to introduce service innovation into their product-based processes. 
The results of the project also include more than 220 trained entrepreneurs and managers in service innovation competences, around 40 novel product-based services and a comprehensive policy recommendation paper. 
The participants of the final conference - more than 80 people have taken part - emphasized the benefits of service innovation. "It increases both the loyalty and profit margins. Some companies that have introduced servitization years ago are now considered market leaders," said Jernej Pintar, CEO at Technology Park Ljubljana (Slovenia), one of the projects' members. 
Pintar has given several examples of how each of us experiences servitization in our daily lives. »Consider buying a smartphone: it comes with 20 services from the telco company that lock the user in the product. Even books today often come with services such as workshops or the possibility to meet the author," Pintar explained.  
Benefits of servitization
Boris Golob, CEO of the Technology Park in Rijeka (Croatia), also sees several benefits of implementing servitization. He named a few: avoiding product commoditization, locking-in customers with high-value propositions, accelerating the adoption rate of new technologies and, most importantly, increasing profits. Golob went on to say that EU companies should exploit the advantages of servitization as it will provide them with a competitive edge. "Products are global, services are local. Adopting servitization is a customer-oriented strategy that will help protect EU industries. These companies can now sell products at a premium price because they can also create more value for customers," he added. 
European small and medium-sized manufacturers, however, are still lagging in their efforts to implement service-based products and business models. Golob has identified several reasons: limited resources, lack of know-how, focus on immediate results and product-based mindset. The Croatian expert is also the author of the Service Innovation Methodology that has been developed during Things+ project. The methodology consists of five steps, or, as Golob put it, "we aimed to create a complete package":
Analyze the company's core products and assets
Spotlight customer needs
Design a new product-based service
Implement your Product-based-System
Change the business models
Servitization in action
One of the participating companies that followed the five steps has been Paywiser. The Slovenian company is working on payment services, such as POS solutions and online payment platforms. Žiga Hus, a representative of Paywiser, explained that they've spent a lot of time educating customers and providing different use cases. »Things+ helped us realise that we can sell this knowledge. We can help customers become compliant with the regulations, acquire licences and offer better solutions themselves, « Hus said. During the project, these services have become Paywiser's main source of revenue. »Even more, several contracts for our upcoming products are a result of the consulting services that we have provided," Hus added.  
How to specialize in servitization
Things+ project also created an opportunity for certifying servitization as a competence, bringing servitization specialists to life. Cesare Auberti from Bureau Veritas has explained that these profiles could support companies in creating service-based products and, by extension, generating added value. Auberti also said that the first training programs are already under development. And what will it take to become a servitization manager? »Candidates have to have a university degree in technical studies or economics, a completed 24-hour servitization training and at least five years of experience in a specific sector of servitization with three projects,« Auberti listed as basic requirements.  
Policy recommendations for long-term results
Participants of the event also emphasised the importance of having servitization processes recognized by the policymakers. Francesca Pozzar, Things+ project coordinator, believes European policymakers share their vision in providing support to companies so that they can become more innovative. And to boost service innovation in the central European regions, Things+ partners developed several policy recommendations. These recommendations can serve as a roadmap to policymakers for further development of service innovation processes. Pozzar explained that the Policy Recommendation Paper embraces a holistic approach. Specifically, it includes incubation programmes, incentives to boost service design, small grants for the implementation of the concepts, dedicated calls with the existing frameworks, revolving fund for pilot servitization projects and co-financed trainings for managers and business support organizations. 
The feedback that Things+ received so far has been overwhelmingly positive. Lucca Ferrarese, Head of the Joint Secretariat at the Interreg Central Europe programme, lauded the project. "Things+ managed to look at both sides of the coin. It focused and helped the companies, but reached the policymaking level. This is remarkable. For us, Things+ is a best practice and future-ready," Ferrarese concluded. 
The presentations and recording of the conference can be found here, information about the Things + project is available HERE. 
The report was written by: Blažej Kupec