Tri-border region Czech Republic, Germany, Poland

Within the Czech-German-Polish case study area the Leibniz Institute of Ecological Urban and Regional Development (IOER) works together with LaNU Saxony Foundation for Nature and Environment and associated partners like universities, regional planning and nature conservation authorities and NGO's.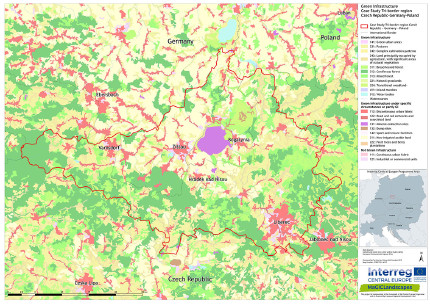 The region is formed by a mountain range stretching from the Ore Mountains and the Saxon-Bohemian Switzerland in the west via the Lusatian Mountains (Zittau Mountains) and the Jizera Mountains to the Giant Mountains in the east. The region is an important ecological corridor connecting the two national park regions of Saxon-Bohemian Switzerland and the Giant Mountains.
The region is an old cultural landscape and was used for forestry, mining (i.e. lignite), as well as glass and textile production. A historic regional feature is the so-called 'Umgebindehaus' (semi-timbered house). The ecosystem was badly affected by emissions, produced by lignite-fired power plants. Thus, the region was also called Black Triangle. The higher parts of the range, once densely wooded, became largely treeless, in part also because of excessive deforestation. Today nature is recovering and is turning into a Green Triangle. The region is of high interest for tourism, especially for hiking, skiing and climbing. Tourism and traffic are at the same time mayor threats for nature.
The often spruce-dominated forests bogs and mountain pastures are important habitats for several important species of flora and fauna (e.g. orchids, globeflower, arnica, cottongrass, sundew, alpine shrew, blackcock, black stork and eagle owl). Protected areas on the German side of the border are the landscape protected areas Oberlausitzer Bergland, Mandautal and Zittauer Gebirge and the Naturpark Zittauer Gebirge. The border area on the Czech side is dedicated as landscape protected area CHKO Lužické hory.
                                                              Download leaflet of tri-border area CZ-DE-PL
                                                                                   Čeština| Deutsch | Polski

Regional Workshops in the tri-border area Czech Republic-Germany-Poland 
Regional green infrastructure maps in the Tri-border region CZ-DE-PL
Green infrastructure functionality maps in the Tri-border region CZ-DE-PL
Green Infrastructure Strategy & Action Plan Tri-border region CZ-DE-PL
If you are interested in the pdf version of all maps of green infrastructure which are linked above feel free to contact Marco Neubert from the Leibniz Institute of Ecological Urban and Regional Development in Dresden/Germany.

VIDEOS

Video "Die Oberlausitz - NATURA 2000 in Sachsen" (Sächs. Staatsministerium für Umwelt und Landwirtschaft)
Video "Naturpark Zittauer Gebirge" (in German) © 2019 | Lausche Video
Header photo: Henriette John
Back to CASE STUDY AREAS or MAIN PAGE