VORARLBERG PILOT: e-Mobility
E-Mobility: Collaborative Business Model Design
Thematic field: Mobility
PILOT SUMMARY

FHV pilot entails the design of a collaborative business model innovation platform, with the aim to explore challenges and opportunities of quadruple helix collaboration in the field of electric mobility. The purpose of the pilot is to investigate demand, pricing options, and geographical constraints for business services that offer self-driving e-cars and mobility services of the future, deployable within the next ten years.
The focus of the pilot is on the business model innovation that steps forward from static ontology of business models to a dynamic process of a business model innovation design, in the context of an urban ecosystem. FHV pilot delivers a platform that encourages innovation through collaboration between academy, industry, local authorities and citizens – the collaborative business model, tested in the field of e-mobility in two case scenarios. In this regard, Collaborative Business Model creates an open innovation environment that facilitates design of novel products and service concepts in the quadruple-helix context.
MAIN STAKEHOLDER INVOLVED
Vorarlberger Illwerke AG
PILOT DESCRIPTION
In order to deliver innovative concepts for future e-mobility services in smart city context, FHV pilot provides a collaborative business model framework and participatory tools for stakeholder interaction and co-creative innovation design in the field of e-mobility and smart services.  The platform encompasses the whole pilot implementation process lifecycle, starting from the definition of research questions to concrete participatory innovation solutions for business model design, involving all actors of the quadruple helix system.
FHV pilot implementation entails accomplishment of following activities:
Testing ambitious models and services - particularly testing the acceptance and potentials of self-driving cars in combination with Mobility on Demand (MoD), e-cars, and inter-modal people transport chains;
Engaging innovation drivers, key users and citizens for developing a business model design, as well as the use of in-field analysis of user acceptance of particular innovation;
Use existing success stories through narrative storytelling for promotional and analysis purposes.
The implementation of the pilot and the collaborative business model framework entails series of stakeholder meetings in addition to four participatory laboratories, tested in two test-case scenarios. 
The final result of the pilot implementation regards the design of  collaborative business model innovation in two defined areas of e-mobility:
E-mobility charging infrastructure for future mobility;
E-car sharing services.
Following procedures of the collaborative business model framework for engaging stakeholders – identification, enrolment, the dialogue between them and the open innovation system, FHV pilot empowers participants to share and create ideas, participate in the dialogue and in the innovation co-design, simultaneously maximizing utilization of participatory tools in each phase of the process. Additionally, FHV pilot provides an opportunity for participants to take part as co-creators in certain steps of the STEP Toolbox: problem definition, building relationship among them, managing invitation contents and bringing new participants.
FHV ensures the sustainability of the process after the project ends by creating a network of participants educated in the context of the future of urban mobility – smart user. FHV pilot supports innovation exposure and the creation of shared knowledge, which directly affects the sustainability of the pilot actions after the project ends. These are further stimulated by the FHV pilot through the physical output of the collaborative business model toolbox for setting up and managing collaboration in quadruple helix conditions. Namely, this output is the Collaborative Business Model Cardboard Game, used for stimulating innovation in the quadruple helix atmosphere, fostering co-design actions for urban innovation. Additionally, sustainability is stimulated by potential spin-off projects but also start-ups organized by students in the future.
THE ROLE OF END-USERS IN PILOT DEVELOPMENT
End users were involved in co-creation process for innovative business model services throughout four participatory laboratories - Lange Nacht der Partizipation, Projektmarktplatz, Projektmarktplatz II and Bodensee Business Forum.
Participatory laboratories were organized for gaining innovation input to the business model design in respect to all stakeholder groups involved. To provide a more aligned end-user input, the configuration of concrete participatory tools aimed at placing special focus on citizens' inputs, as the critical group to the innovation co-design.
In this context, participatory laboratories provided environment for delivering innovation, ensuring the output that envisions the final business model design for e-car sharing services and e-car charging infrastructure. This model involved all stakeholders in the value creation, placing end-users at the center of innovation co-design.
During the participation at the first laboratory, end-users provided feedback on actual thematic focus of the model, contributing with the critical observation from the non-expert point of view, as well as yielding insights from the perspective of a common user of a product or service. Attendees demonstrated significant interest in the initial topic and throughout gamification modelling, face-to-face conversations and brainstorming activities their insights were collected and further used as a foundation for the creation of the first collaborative business model draft. In later stages of the participatory process, FHV managed adjustments of participatory tools following each workshops in both case scenarios.
Efforts to expand the innovation exposure resulted in improved knowledge on topics in focus, but also in better application of such knowledge to generating new business ideas, and the creation of the final business model designs - in both test-case scenarios. Managing particular gamification approach, as well storytelling and crowdsourcing methods, which later resulted in creation of collaborative business model cardboard game, was applied in context of sharing and competing, learning and producing, and switching roles among participants. This approach was aimed at providing a win-win scenario through mutual interaction and idea production for delivering a final business model design through elicitation, collection and formalization of the knowledge.
Based on the laboratory outcomes, the participatory teams' experience and creativity, served to target multidisciplinary competences and further enrich the business knowledge of all participants. In this regard, based on the further gamification of the process, end-users were able not only to open up and improve the knowledge in particular innovation field, but to provide valuable input in form of ideas and value added to a concrete business model draft. These outputs were stimulated through an exploration process and particular participatory tools, and were further used in the creation of two final business model designs.
PERSPECTIVES
FHV pilot fosters cooperative Innovation design relying on the knowledge exchange, relationship building and participatory actions among academy, industry, local authorities and citizens as end-users for managing e-mobility services. The model boosts multidisciplinary agile innovation culture and encourages involvement of civil society in the process of innovation design, by enabling participatory co-design in quadruple helix setting.  Furthermore, the model assess changing customer needs, supports smart innovation design and stimulates implementation of collaborative strategies that will define the future of the urban landscape in Vorarlberg region. It defines three layers of collaboration, each with the purpose to decrease the gap between groups involved and sustain an open environment that promotes participative decision making in urban mobility innovation design.
FHV pilot sets up the collaborative business model innovation design, exhibiting features serving as a stepping stone for managing current urban challenges and difficulties posed by introduction of new technologies and innovation trends accompanying it. As companies cannot adapt quickly enough to the changing environment managing only internal technological innovations, collaborative business model uncovered new opportunities in coping with difficulties exposed by such market. This is achieved by focusing on open innovation opportunities and uncovering citizens' potentials in delivering business model innovation. Direct inclusion of end-users, as well as further collaborations in atmosphere of the quadruple helix environment, based on participatory approaches such as gamification, storytelling, design thinking and other applied participatory tools served as a win-win strategy for uncovering new solutions in the field of e-mobility in Vorarlberg.
This model has several implications for business model innovation for companies and other stakeholders within urban innovation ecosystem in region. It illustrates how business models can be created by taking into account an urban ecosystem perspective on the outcomes it wish to create for users, and the configuration of the value network within the system.
Tested in two-test case scenarios, implementation of FHV'S collaborative business model platform provides two business models for e-mobility services, created in quadruple helix context. In this regard, corresponding participatory laboratories provided environment for delivering innovation, ensuring the output that envisions the final business model design for e-car sharing services and e-car charging infrastructure. In the long-term, the first business model could reduce customer exposure to electricity prices, reduce vehicle ownership costs, spread the risk across the ecosystem, and also reduce battery ownership costs – which are some of the common barriers identified to consumer adoption. The second model provides a design of integrated services for EVs based on innovative e-car sharing concept. These models propose mixture of smart solutions for managing such services, including online booking system, block chain as an opportunity for risk leverage, and charging demand management for e-car sharing system.
The platform is beneficial for all stakeholders involved in urban development, placing citizens at the center of innovation development. Also, based on this model companies are stimulated to take an urban innovation ecosystem perspective in delivering business models, which in the long term serves to sustainability of solutions and strong participative potentials in the future. Sustainability is supported by the collaborative business model cardboard game, applicable to the diverse urban sectors – on local, regional, national and international level. Moreover, ICT capabilities and the collaborative business model adaptability in context of smart cities, are suitable for the model delivery within the diverse smart city dimensions and industries. From the citizen perspective, this model encourages changes in consumer behavior, and motivates citizens to transform from passive users of innovation products, to active participants in modelling urban environments. This will aid acceptance and accessibility to the infrastructures, as well as its development in the context of the future of urban mobility.
PARTICIPATORY METHODS
In the context of implementing the CBM, FHV's pilot entails application of the following participatory methods and tools: Gamification, Crowdsourcing, Storytelling, Motivation and Qualification. Also, other additionally supportive participatory methods and tools were applied in the collaborative business model procedure. Supportive participatory tools that FHV used as part of above mentioned tools are brainstorming, focus group discussions, open-ended stories, and participatory presentations. After testing the pilot in two test-case scenarios, the model was further extended in the form of collaborative business model cardboard game. The game consists of range of rules and activities followed by particular set of participatory methods and tools for managing specific innovation design. These methods and tools lean on crowdsourcing, gamification, storytelling and motivation methods for engaging audiences in innovation co-design.
The method was tested in two-test case scenarios. In the first scenario, FHV tested its method throughout two participatory laboratories and range of activities for delivering innovative business model for e-car charging infrastructure.  
The first participatory event "Lange Nacht der Participation (Long Night of Participation)" took place in Dornbirn, in the second week of May 2017. Configuration of participatory tools applied included majorly crowdsourcing, gamification, storytelling and motivation, encouraging collective learning, idea generation, and defined a shared value among actors involved. The final aim of the event and utilization of participatory tools was to create the innovation mindset among citizens and to allow enough data for delivering the first draft of the collaborative business model design, in the context of the future e-mobility. The second participatory lab "Projektmarktplatz" was a part of the second collaborative business model phase. All stakeholders (citizens, academy, industry, local government) are actively involved in the co-design, communication process, and the final design of the collaborative business model for e-car charging infrastructure.
"Projektmarktplatz" was the first participatory laboratory organized in the scope of the second case scenario. Additionally, it is a third event at which FHV pilots solutions were tested and further upgraded. The output of the lab was the first business model draft of e-car sharing services, focusing on the application of new technologies to the sector, such as blockchain technologies and smart applications, but also included the future possibilities on a model for e-car sharing service that encompasses the MoD and autonomous vehicles. The second experimental lab, in this test-case scenario, served as a setting for employing the use of design-driven perspective for leveraging innovation potentials of urban areas. This perspective was further deployed based on gamification modeling, three-channel storytelling, and gamified crowdsourcing. The participatory laboratory served as an environment for delivering innovation and for providing the output that envisioned the final business model for e-car sharing services.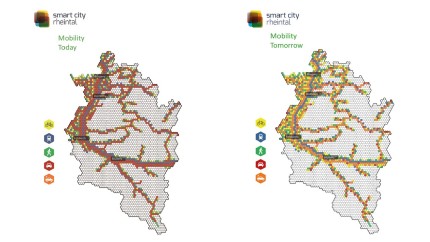 MORE ON VORARLSBERG PILOT: