Declaration Towards Low-Carbon Mobility Planning and Services for Functional Urban Areas
LOW-CARB seeks to increase the use of public transport, foster multimodal mobility and reduce CO2 emissions from private motorized modes, which account for around 90 percent of the total urban transport emissions. It does this by encouraging integrated low carbon mobility planning in functional urban areas, a learning programme and pilot investments.

The declaration is a symbol representing a voluntary statement to embrace the project's objectives by:
introducing or advocating for low-carbon mobility planning in functional urban areas;
co-organising or participating in various activities and events of the project and/ or
initiating or following LOW-CARB's innovative pilot projects in Central Europe (regularly featured on our website)
Local authorities, public transport companies, city associations, NGOs, 'low-carb' consultancies, the media, and related low-carb and planning projects are all invited to sign the Declaration, which is online here.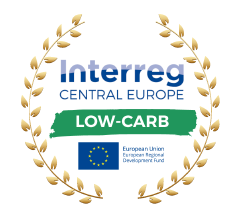 HALL OF FAME
Signatories of the Declaration to date:
Electric Tramways Parma, TEP S.p.A., Italy (Dec. 13, 2017)
   - Antonio Rizzi, President
Leipziger Verkehrsbetriebe, Leipzig, Germany (Dec. 13, 2017) 
  - Ronald Juhrs, Managing Director, Technology and Operations

Szegedi Közlekedési Kft, Szeged, Hungary (Mar. 21, 2018)
  - Zoltán Majó-Petri, Managing Director

City of Poreć, Croatia (Aug. 30, 2018)
  - Loris Peršurić, Mayor
City of Muszyna, Poland (Sep. 24, 2018)
  - Jan Golba, Mayor
Batumi, Georgia (Oct. 3, 2018)
  - Lasha Komakhidze, Mayor

Ljutomer, Slovenia (Oct. 5, 2018)
  - Olga Karba, Mayor

Krakow Metropolis Association, Poland (Oct. 10, 2018)
  - Daniel Wrzoszczyk, Director

Intermunicipal Community of Oeste, Portugal (Oct. 10, 2018)
  - Pedro Afonso Ferreira Monteiro, 
ABCD Ltd and Institute of Transport, Albania (Oct. 11, 2018)
- Vera Shiko, 
Urban Planning Institute of the Republic of Slovenia, (Jan. 27, 2020)
- Dr. Igor Bizjak, Director 
Mobilissimus LTD, Hungary (Feb. 04, 2020)
- Mr. Antal Gertheis, Managing Director
Public Transport Board of Krakow (Zarząd Transportu Publicznego w Krakowie), Poland (Feb. 11, 2020)
- Lukasz Franek, Director
City of Leipzig, Germany (Feb. 26, 2020)
- Dipl. -Ing. M. Jana, Departmental Director of Transport and Infrastructure 
Mitteldeutscher Verkehrsverbund GmbH (MDV), Germany (Apr. 20, 2020)
- Steffan Lehman, Head of MDV 
University North, Croatia (May. 05, 2020)
- Prof. Marin MilkovicSteffan Lehman, Rector

Gmina Skawina, Poland (Sept. 21, 2020)
- Deputy Mayor. Mr. Tomasz Ozog
Want to join the LOW-CARB Hall of Fame? Send your scanned Declaration to LOW-CARB's Communications Manager, Saydrina Govender: s.govender@rupprecht-consult.eu