Follower Cities of the LOW-CARB Project
LOW-CARB announced an open call to cities and regions of central Europe in June 2018 hoping to attract ambitious local authorities to follow its lead in the transition to low carbon mobility. After an application process to assess their eligibility as well as areas of interest, municipalities were selected to join the LOW-CARB Follower Programme. Given the restrictions of movement in Europe during corona's first wave, the programme involved a two-tiered approach of online interaction.
The first was a range of events in the format of webinars and conferences (e.g. the Urban Mobility Days, EU Week of Regions, and the EU Mobility Week) and the second were bi-lateral exchanges for followers with partners who needed a more one-to-one interaction. 
All follower regions keenly tracked LOW-CARB while it hosted and participated in 11 online conferences and webinars. These events showcased LOW-CARB's pilot measures (which were introduced to the public by each of the organising partners); demonstrated its innovative tools (like the Self-Assessment Tool, GIS Monitoring Tool, and the SUMP-Central); and facilitated an interactive Exploitation Workshop to aid the uptake of innovations in the follower regions.
Bi-lateral meetings between partners and followers were arranged secondarily in place of pilot site-visits by the followers. This made it possible for partners to exchange their knowledge, lessons, and recommendations to interested follower regions about planning, implementing, and evaluating their pilot measures. Furthermore, it acted as a crucial networking opportunity for followers to establish functional working relations with experts. One of LOW-CARB's approaches to improved low carbon planning capacities for central European contexts is by connecting experts and practitioners who understand the unique setting of Functional Urban Areas (FUAs) of central Europe. This approach helps empower local low-carbon agents of change, in separate municipalities, by bringing them together. The more connected these networks are, the quicker low-carbon planning knowledge can spread and sooner become a norm for municipalities of central Europe.

While LOW-CARB has reached over 150 cities globally through the deployment of its tools, pilots, and webinars, the official twinning cities and their interests of the project were:
Batumi (Georgia)
Integrated planning and SUMP implementation with an emphasis on multimodality, demand-modelling, and the availability of information for travellers on mobility platforms.
Gmina Uzdrowiskowa Muszyna (Poland)
The establishment of electromobility systems for smaller FUAs.
Kraków Metropolis Association (a FUA of 15 municipalities incl.: Krakow, Biskupice, Czernichow, Igolomia-Wawrzenczyce, Kocmyrzow-Luborzyca, Liszki, Michalowice, Mogilany, Niepolomice, Skawina, Swiatniki Gorne, Wieliczka, Wielka Wies, Zabierzow, Zielonki (Poland)).
Coordinating mobility planning at the FUA level and starting the SUMP process.
Tirana (Albania)
Stakeholder engagement and planning procedures in the first-time adoption of a SUMP.
City of Poreč (Croatia)
Best practices for low carbon SUMP implementation focusing on multimodal transport for tourists.
the Intermunicipal Community of the West (an association of 12 municipalities integrating Alcobaca, Alenquer, Arruda dos Vinhos, Bombarral, Cadaval, Caldas da Rainha, Lourinha, Nazare, Obidos, Peniche, Sobral de Monte Agraco, and Torres Vedras (Portugal)).
Databased mobility planning to improve an existing SUMP.
Hannover (Germany)
Development of an action plan.
Municipality of Maribor (Slovenia)
Development of an action plan.
Graz (Vienna)
Stakeholder engagement during SUMP processes.
 
The following bilateral online meetings took place during the mid-to-late 2020:
The Municipality of Maribor joined TEP (Electric Tramways Parma) in a workshop to learn about their Action Plan development and inclusion of electric vehicles and charging infrastructure.
Tirana was consulted by Rupprecht Consult in an interactive demonstration of the Self-Assessment Tool. In this setting the tool was used to identify the readiness level of Tirana for a SUMP.
Gmina Uzdrowiskowa Muszyna met with the ZTP Kraków to discuss setting up electromobility and micro mobility solutions in transport systems.
Kraków Metropolis participated in a 2-day workshop on SUMP implementation with a demonstration and application of the SUMP Self-Assessment Tool for the FUA. This was led by partners ZTP Kraków and the Municipality of Skawina.
The city of Hannover received guidance and knowledge exchanged from the City of Leipzig about Leipzig's mobility master plan.
The City of Graz interacted with Rupprecht Consult who demonstrated to them the broad applicability of the SUMP Self-Assessment Tool in planning processes.
 Should you have similar interests as any of the follower regions and wish to contact them, feel free to request further information from: m.damerau@rupprecht-consult.eu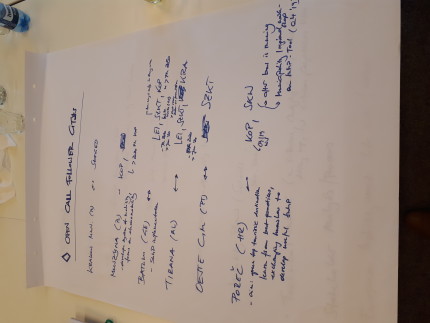 Updated 16.02.2021