Thayatal National Park
Green Infrastructure Strategy and Action Plan 
| | |
| --- | --- |
| | Case study area Thayatal National Park, Austria |
Description of the area
The Thayatal National Park in the north of Austria was founded in 1999 to protect the high biodiversity of the meandering River Thaya valley. It plays an important role in the landscape protection in the border region between Austria and the Czech Republic. With over 90% of the park being woodland, the Thayatal National Park is a true forest national park and a core area of the regional green infrastructure. The National Park is a biodiversity hotspot and is home to a large number of rare animal and plant species. This biodiversity can only be maintained and enhanced, if there is a sufficient network of suitable habitats, as otherwise there is a risk of genetic decline. Green infrastructure is of particular importance in the region so that the Thayatal National Park does not become an isolated island. Forest and meadow areas in particular represent occasional interruptions to the monotonous agricultural activities that need to be protected and enhanced.
Issues
The National Park provides a refuge for rare and endangered species which otherwise would not be able find a suitable habitat in an agricultural landscape. In order to maintain and improve the biodiversity of the National Park, green infrastructure is a key factor in sustaining the park. Many species struggle to find migration corridors through the agricultural land, which for the most part surrounds the National Park. For example, the rare European wildcat (Felis silvestris), which was believed extinct in Austria, found its way back into the country. Sightings in the Thayatal National Park were confirmed on several occasions using DNA-analyses. For the preservation of a healthy wildcat population an exchange of genetic material must be ensured.
Challenges
Without sufficient green infrastructure many species would suffer of genetic depletion. The role of such protected nature sites in Central Europe, which are often surrounded by agricultural land, is very important for the preservation of a functioning natural environment. It allows the natural vegetation to adopt to climate change and therefore protects biodiversity for generations to come. In order to secure the continuance of the functionality of the natural protection sites, green infrastructure is indispensable in keeping the landscapes and its people healthy. Therefore, it is of high interest for the Thayatal National Park to improve its connectedness to other natural habitats and protected sites throughout Central Europe. 
HOW THE STRATEGY WAS DEVELOPED
Outline of key themes, priorities and directions for the GI Strategy and Action Plan
As a result of stakeholder involvement and application of various tools to assess the public benefit of GI, a prioritisation of the key aspects of local GI was achieved and provided the basis for the coordinated development of strategies and action plans for the Thayatal National Park.
GI Benefit

Strategic Tools/Policies

Partners 

Conservation Benefits
- Maintaining/enhancing existence value of habitat, species and genetic diversity
- Maintaining/enhancing bequest and altruist value of habitat, species and genetic diversity for future generations



Thayatal National Park
Lower Austria network of protected areas
Lower Austrian League for Nature Conservation
Biologists, NGOs & nature conservationists

Tourism & Recreation
- Increase in tourist attractiveness of the territory
- Expansion of range and capacity for recreational opportunities

State and municipalities
Tourism associations
Disaster Prevention
- Enhancing erosion control capacity
- Reduction of the risk of forest fires
- Flood hazard reduction



State and municipalities
Water board
Climate Change Adaptation Model Regions

Land & Soil Management
- Reduction of soil erosion
- Maintaining/enhancing soil's organic matter
- Increasing soil fertility and productivity
- Mitigating land take, fragmentation and soil sealing
- Improving land quality and making land more attractive
- Higher property values




State and municipalities
District agricultural authorities
Chamber of Agriculture
Winegrowers' Association
Federal Ministry of Agriculture, Regions and Tourism
Climate Change Adaptation Model Regions

Agriculture & Forestry
- Enhancing multifunctionality and resilience of agriculture and forestry
- Enhancing pollination
- Enhancing pest control




State and municipalities
District agricultural authorities
Chamber of Agriculture
Winegrowers' Association
Austrian Federal Forests
Federal Ministry of Agriculture, Regions and Tourism
Climate Change Adaptation Model Regions

Investment & Employment
- Better image
- More investment
- More employment
- Increase in labour productivity

State and municipalities
Tourism associations
Chamber of Agriculture
Climate Change Adaptation Model Regions

According to this prioritisation and the data driven analysis, the following actions and areas for intervention were identified as most urgent:
Action Plan 1: Communication activities to the public
The importance as well as the possibilities for improving green infrastructure are identified and spatially located. Together with the municipalities and other institutions, the elements of the green infrastructure, their maintenance and promotion in the region are being discussed.
Action Plan 2: Meadow and dry grass management
Whilst the region has a high proportion of forest, other open but extremely important ecological locations such as meadows, dry grassland and heathlands are of great importance for the biodiversity in the region. In order to maintain a structurally rich and diverse habitat, however, maintenance and care measures are essential.
Action Plan 3: Environmental education and recreation
The diverse elements of the green infrastructure also serve for recreation and environmental education of the public. This is particularly possible if the visitor infrastructure is in harmony with the elements of the green infrastructure. For this reason, new visitor infrastructure is being created in the region, which on the one hand makes the space more diverse, on the other hand allows natural elements to be experienced and thus helps to raise awareness in the region.
Action Plan 4: Display garden
A display garden at the location of the National Park Centre is intended to bring the regional population and visitors closer to nature-oriented gardening and to show what an important element of the green infrastructure gardens in urban areas are, even in a national park region. Visitors are shown which species thrive particularly well in this region, are native here and adapted to the climate.
Action Plan 5 – Habitat networking
The network of habitats plays a very important role in maintaining the high biodiversity that the Thayatal National Park is currently home to. In order to avoid a genetic impoverishment of this diversity, there must be regular exchanges with species from other populations. However, if a habitat is very isolated or not networked with other habitats, this exchange cannot take place and species diversity would ultimately decline. Therefore, the National Park supports actions and implementations of green infrastructure in the region, which supports the connectivity of the protected area with the region and other habitats. 

Key Players/actors in delivering the strategy and those that support its implementation
The strategy and action plans are supported by institutions, individuals and municipalities in the case study area and the findings, recommendations of the project will be used to ensure that policy-making and decisions improve the GI resource. Local land owners and managers and nature conservation bodies are encouraged to use the findings to safeguard and improve the functionality of the existing and planned GI network.

Expected benefits
The implementation of concrete measures of the developed action plan will contribute positively to the safeguard and, ideally, expand the provision of GI benefits regarding, amongst others, conservation, tourism and recreation, disaster prevention, land and soil management, agriculture and forestry as well as investment and employment greatly. By promoting and improving Green Infrastructure associated with the agricultural landscape, forests and woods, watercourses, still waters and wetlands, fruit and wine growing complexes, dry grasslands, meadows and pastures as well as urban and rural settlements the multifunctional role of these areas providing a wide range of benefits could be increased strongly to serve human well-being. In addition, though cross-linking and re-connection of the fragmented GI network, migration and dispersal possibilities of living beings will be improved to protect ecological fitness, genetic variability and biodiversity.
Download the Strategy (Deutsch)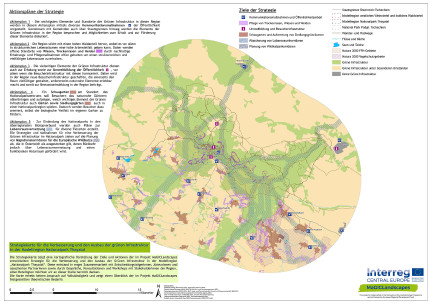 Contact
If you live and work in the area of Thayatal National Park and if you are interested in the strategy for a better green infrastructure in this region please feel free to contact office(at)np-thayatal.at at the Thayatal National Park GmbH. 
Header photo: Nationalpark Thayatal/Ralph Mirau

Back to WP3 OVERVIEW | CASE STUDY AREA | MAIN PAGE