Thayatal National Park, Austria
The Thayatal National Park and its neighbour, the Podyjí National Park in the Czech Republic, contain some of the most biodiverse areas to be found in Central Europe's protected areas. It is a steep valley embedded in natural forests located at the border of northern Lower Austria and the Czech Republic. The combination of diverse geology, river morphology and the valley's location on the intersection of two climate zones created the conditions for this high biodiversity.
The River Thaya carved its way 150 metres deep into the geological formations of the Bohemian Massif creating the characteristic valley meanders. Along these river bends an intertwined mesh of various habitats can be found: natural forests, dry grasslands, meadows and cliffs and rock faces. It provides habitat for numerous rare animals such as the Black stork and the European Wildcat and plants such as the Siberian melic grass .
Its central position in the otherwise very fractured and intensively used landscapes of the Waldviertel, the Weinviertel and South Moravia make it very precious in terms of wildlife in Central Europe and worthy of protection. Despite its relatively small expanse of 7,660 ha (NP Thayatal 1,360 ha, NP Podyjí 6,300 ha) the area has great potential as a stepping stone for migrating wildlife, such as the European Wildcat, the Lynx, the Wolf or other species that require interconnected movement corridors for migration and dispersion. 
In addition to the impressive natural landscape the area has a rich cultural history, such as the castles and ruins along the river or the famous wineries, which are of interest for visitors and scientists alike.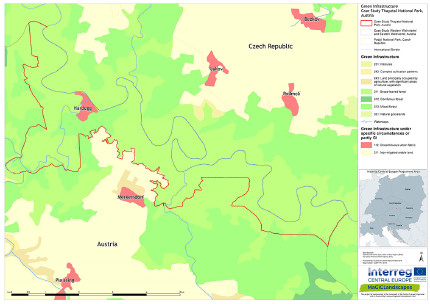 The Thayatal National Park is situated within the case study area Eastern Waldviertel & Western Weinviertel. This is why they work closely together with the University of Vienna and its associated partners, the Podyjí National Park Administration. 
Download Flyer of the case study area National Park Thayatal and surroundings (in German)

Regional Workshops in the Thayatal National Park (in German)
Regional green infrastructure maps of Thayatal National Park and surroundings
Green infrastructure functionality maps of Thayatal National Park and surroundings
Green Infrastructure Strategy & Action Plan Thayatal National Park and surroundings
If you are interested in the pdf version of all maps of green infrastructure which are linked above feel free to contact David Freudl from the Thayatal National Park GmbH in Hardegg/Austria.

Header photo: NP Thayatal/Ralph Mirau
Back to CASE STUDY AREAS or MAIN PAGE