Join the LOW-CARB Follower City Programme!

The LOW-CARB project delivers innovations for transitioning towards a low carbon mobility system for Central Europe. It has a structured a programme of trainings, pilot launches and webinars to help boost Central European regions' awareness, knowledge, and expertise of low carbon mobility. If your city or region is interested in learning about the benefits and lessons from LOW-CARB's pilots and experts, registration is still open!
Do not hesitate to get in touch and let us know which of the following events you'd like to join! We can send you more details before each event. Please contact our communications manager Saydrina Govender, or Project Manager Marlene Damerau of Rupprecht Consult at: 
s.govender@rupprecht-consult.eu and  m.damerau@rupprecht-consult.eu respectively.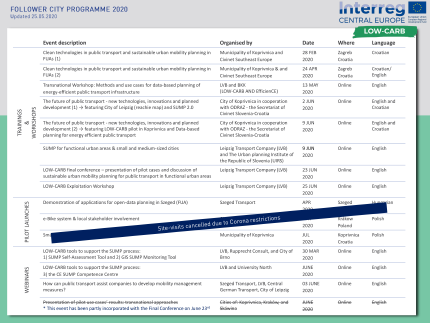 Let's build a low-carbon Europe together!

More info here.