Webinar Series Goes Live for LOW-CARB's Follower City Programme
07.05.2020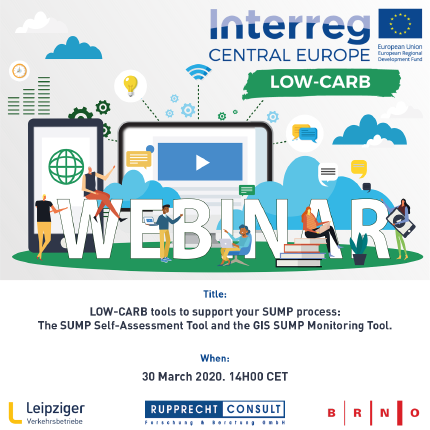 LOW-CARB is no new player to the world of webinars. Having experienced the success of bringing people together in an environmentally-sustainable way online before, LOW-CARB designed a series of webinars to disseminate its results and lessons since it enters the final 6 months of its lifetime.
The series is also a part of the LOW-CARB Follower City Programme. "Follower Cities" are regions in and around Central Europe that have committed themselves into a learning programme where LOW-CARB passes over its knowledge, expertise, and project experiences to the regions who would like to adopt the project's innovations. They include site visits to see LOW-CARB's pilots in action to encourage adoption in their own regions (if you or your city is interested in becoming a follower region, please contact s.govender@rupprecht-consult.eu, spaces and funding are still available).
The webinar was held on the 30th of March and presented two of LOW-CARB's unique tools created to aid Functional Urban Areas with implementing strategic mobility plans, like a Sustainable Urban Mobility Plan. The SUMP Self-Assessment Tool and GIS Monitoring Tool was presented respectively by leading SUMP expert Lasse Brand (Rupprecht Consult), and project manager Kateřina Nedvědová (City of Brno).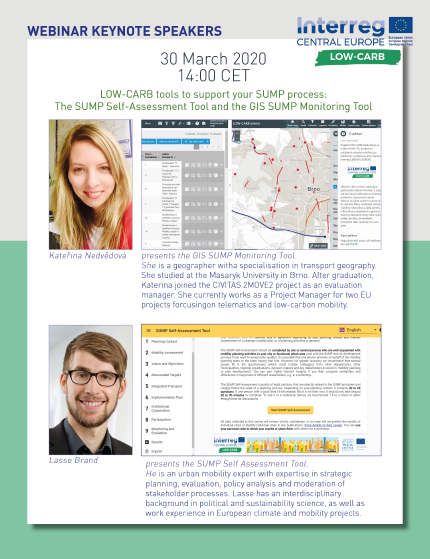 The webinar was opened and introduced by one of LOW-CARB's project managers Dr. Wolfgang Backhaus  (Rupprecht Consult). He presented an overview of the project to the webinar's 40 attendees, and discussed its activities and pilots that seek to build planning capacities for integrated low carbon mobility in functional urban areas of Central Europe. This was then followed by the presentation of the SUMP tools created by LOW-CARB.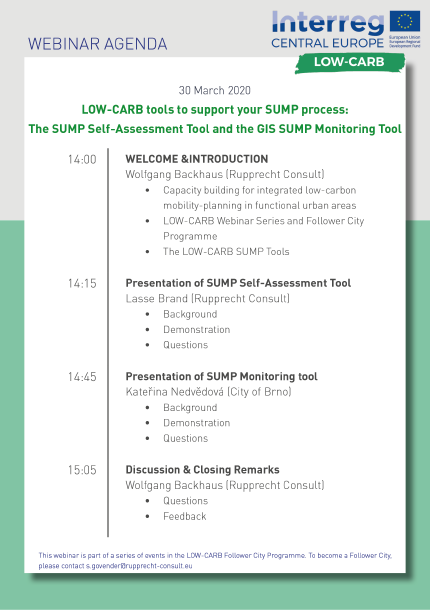 1) The SUMP Self-Assessment is a specially crafted survey for local authorities and practitioners to assess how closely their strategic mobility plan is related to SUMP approaches, be it a well-established SUMP or the beginnings of one. The results of which provided tailored guidance, resources and suggestions unique to each region's mobility situation and needs. An assessment on the quality of a strategic mobility plan AND an evaluation of planning activities can be deduced. 
Lasse Brand provided a live demonstration of using the tool and the value it provides planners and practitioners. 
You can find the demonstration here.
2) The GIS SUMP Monitoring Tool (developed by City of Brno) helps local authorities and practitioners better coordinate and realize a Sustainable Urban Mobility Plan as well as the action plans' measures. It is a tool that has been designed to assist with the organisation of stakeholders and their respective responsibilities and action points of SUMP development and implementation. It focuses on two key areas: the expenditure of time and budget across various measures.  

The audience was a variety of private and public practitioners, businesses, and students and researchers, who engaged with these technical topics and tools via interactive polls and discursive Q&A sessions. 

The feedback received from our participants was largely positive, so much so that follow-up individual sessions are expected to be organised for one-on-one training's using the LOW-CARB SUMP Tools!

If you would be interested in a full recording of the webinar, please contact the LOW-CARB communications manager: s.govender@rupprecht-consult.eu