WP2: The Online Energy Platform - OnePlace

The partnership developed the Online Energy Platform - OnePlace, a web-based platform to visualize 3D city models and query energy information on public buildings. OnePlace aims to enhance public authorities and energy end-users knowledge in energy efficiency and sustainable entrepreneurship. The platform is intended to be used by public authorities, energy end-users and consists of 4 different modules:

The Living Energy Marketplace: an online database helping energy end-users to make an energy-wise purchase of electronic devices and connecting them to experts in the field of architecture, engineering, energy efficiency, renewable energy sources etc;
A 3D Energy Management System: a webGIS system that can navigate a map of an urban environment, select a 3D building of interest and retrieve the energy audit and other cadastral/building information. The 3D Energy Management System aims to harmonize the different data sources in one database and visualize them on the OnePlace platform. The participating cities tested and validated the system in their pilot areas, which are presented on the online viewer;



The 3D Energy Management System

Energy Efficient Cities: a module enabling the exchange of experience and good practices between cities for public authorities, municipalities and other public actors;
Financing Energy Efficiency: an attractive visual presentation of the transnational strategy outcomes (financial road map), examples of best practices and practical steps to use the national and EU-level resources. WP4 (Energy Efficiency financing in Central Europe)provides information for this section and tries to capture and present the methods of financing energy efficiency investments that will be transferred to the participating regions' Energy Efficiency Roadmaps. The module assists local authorities and public bodies intheir engagement in financing energy efficiency by presenting the methods of financing energy efficiency investments and transferring them into the Energy Efficiency Roadmaps of the participating regions.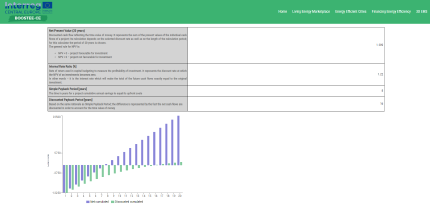 OnePlace offers and presents all BOOSTEE-CE results on an easy-to-use and compelling platform. The creation of the platform was preceded by mapping existing similar platforms and conducting questionnaire-based research to be able to improve upon prior websites. The OnePlace platform was created in this WP and the it was used in O.T3.1, i.e. the pilot actions with regards to the 3D Energy Management System module. WPT2 is therefore running in close cooperation with WPT1 (3D building modeling) and WP4 (Energy Efficiency financing in Central Europe).
Within WPT2 trainings on "OnePlace" for public authorities were organized. The slides presented at both events are now available for use in the national iterations of the trainings and we advise to everybody who is interested to take a look or even to re-use the presentation. A video was also made to promote the platform, which can be found here!
The partnership is happy to share the following results: 
BOOSTEE-CE developed the

OnePlace platform

for public authorities and energy end-users. The web platform allows to access energy-related data and consists of 4 different modules.

O.T2.1: The Online Energy Platform - OnePlace


The aim of this deliverable is to define system architecture, visual and technical design and contents of the p

roject platform. Based on the analysis of the previous and ongoing projects similar to BOOSTEE-CE with

he focus on creating the online energy platform, the questionnaire was designed with the aim to define

he actual needs of project partners and stakeholders.







D.T2.1.1: Architecture design for the Transnational Online Energy Platform - OnePlace - report




The developed platform OnePlace offers the 3D advanced 3D Energy Management System (3DEMS) – a webGIS viewer that allows users to navigate a 3D urban environment, select a building of interest and retrieve energy-related information, such as audit, cadastral / building data, thermal images, etc.

O.T2.1: 3D Energy Management System (EMS)

The deliverable reports the overall methodology employed to create 3D urban models, enrich them with e

nergy-related information and perform queries to understand their energy performances. In other words, t

he deliverable includes the contents of the 3DEMS module of the project OnePlace platform, based on 

utcomes of A.T1.2 "Creation of realistic 3D building models" and A.T1.3 "Estimation of PV potential and 

heating losses".




D.T2.2.1: Methodology to perform a comprehensive online energy auditing at urban level using 3D city models


The deliverable T2.2.2 belongs to the activities related to the development of a web platform with an aim to consult, m

anage and access energy information using 3D building models (A.T2.2). In particular the document r

eports how the 3D Energy Management System (EMS) module of OnePlace is used to display and query e

nergy-related date in 8 pilot actions (PA) of the project.



D.T2.2.2 – Information integration & visualization into 3D Energy Management System (EMS) webGIS


Testing and validation of the 3D city models by each technical PP's. Collections of tips and guidelines to improve t

he tool. In the frame of this deliverable, partners gathered feedback from key target groups (municipality e

mployees from different departments, energy experts from regional energy agency and representatives of l

ocal business support organisations). A demonstration of the platforms' 3D EMS module was followed by the respondents testing the module a

nd filling a short questionnaire on 

the 3DEMS. 

D.T2.2.3: Functionality testing and validation of the 3D city models with energy audit functions - Czech Republic

D.T2.2.3: Functionality testing and validation of the 3D city models with energy audit functions - Slovenia
D.T2.2.3: Functionality testing and validation of the 3D city models with energy audit functions - Croatia
D.T2.2.3: Functionality testing and validation of the 3D city models with energy audit functions - Poland
D.T2.2.3: Functionality testing and validation of the 3D city models with energy audit functions - Italy
D.T2.2.3: Functionality testing and validation of the 3D city models with energy audit functions - Hungary
D.T2.2.3: Functionality testing and validation of the 3D city models with energy audit functions - Austria

This deliverable presents the final result of the development of the 3DEMS, a tool  that allows end-users to access and visualize energy data in the 3DEMS module of OnePlace. This is based on ICT and geospatial tools able to give access to heterogeneous information in the field of building energy management and efficiency.



D.T2.2.4: Final development of 3D EMS
D.T2.2.4: Final development of 3D EMS - Italy
D.T2.2.4: Final development of 3D EMS - Austria
D.T2.2.4: Final development of 3D EMS - Czech Republic
D.T2.2.4: Final development of 3D EMS - Hungary
D.T2.2.4: Final development of 3D EMS - Poland
D.T2.2.4: Final development of 3D EMS - Croatia
D.T2.2.4: Final development of 3D EMS - Slovenia
D.T2.2.4: Final development of 3D EMS - Polish - Czech border area

The training material encourages cooperation on shared challenges in Central Europe. The training material focuses on issues related to the overall topic of energ 

efficiency in public buildings, that could be used to increase knowledge, capacities and skills of building o

wners, managers and decisions makers, enabling them to successfully implement sustainable energy

measures in their buildings.




D.T2.3.1: Developing Training Materials
D.T2.3.1: Italian version
D.T2.3.1: Austrian version
D.T2.3.1: Croatian version
D.T2.3.1: Slovenian version
D.T2.3.1: Polish version
D.T2.3.1: Czech version
D.T2.3.1: Hungarian version

Joint transnational training seminars were organized in Poland (PP5) and SI (PP2) for municipalities & agencies in the partnership which will act as ambassadors for the implementation of 3D energy audit in their administrations and premises.

D.T2.3.2: Training reports on transnational training seminars - Warsaw, Poland
D.T2.3.2: Training reports on transnational training seminars - Bled, Slovenia

The OnePlace Online Energy Platform

OnePlace platform